2022 has been a big year for Stingray Branding. Reflecting over the last 12 months, our team has done a lot this year. We opened a new office, completed event marketing from start to finish for several large events, launched several websites and apps, and won many awards. Our team has grown and we're looking forward to 2023. 
Stingray Branding's Ribbon Cutting: New Office
Stingray Branding grew in 2022 and moved to a new office where we celebrated with a ribbon-cutting ceremony. 2022 was a big year of growth for us. A new office for Stingray Branding meant being able to host in-person meetings with clients, allowing our team to collaborate on projects face-to-face, and a connected conference room for remote meetings to be brought into the office. We've had a lot of fun since we moved into the new office, a lot of hard work, and a lot of fun memories together as a team.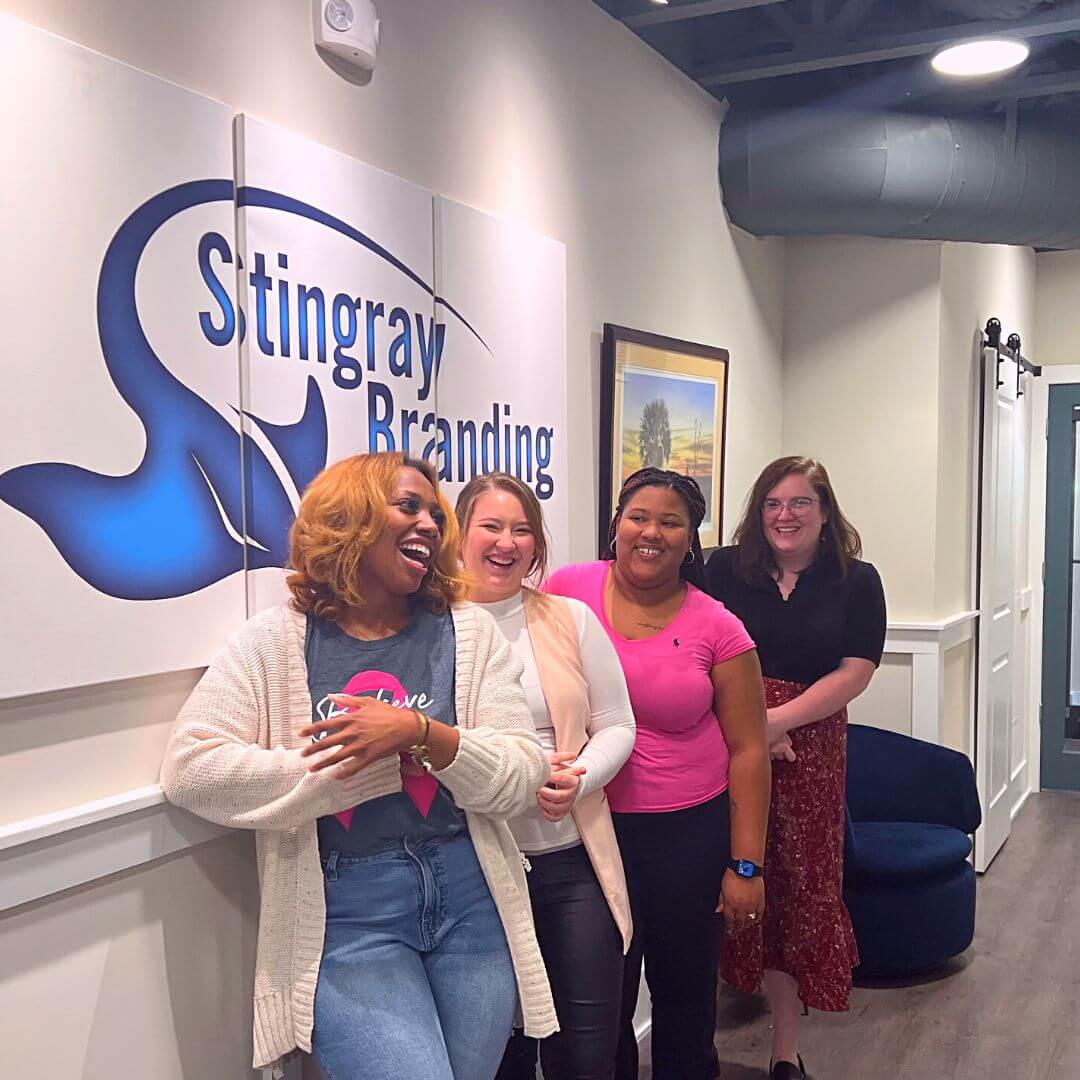 A Growing Team
Our team grew a significant bit this year. We brought on our Marketing Manager, Kia Stokes, our Executive Assistant, Mon'dieu McKinney, our Graphic Designer, Sophia Northfield, and our Marketing Assistant, Jaydee Wood.
Completed Event Marketing 
Event Marketing is something that our team thoroughly enjoys. It takes a lot of time and work but we enjoy being able to see all of that hard work and time pay off when we get the opportunity to experience the event we have worked so hard at marketing. Here are a few big events we are proud of from 2022. 
Annual Charleston Greek Festival 
We completed the marketing for the Charleston Greek Festival. This is an event we enjoy marketing every year we have had the opportunity and we look forward to doing it again this year. 
North Charleston Business Expo 
We were thrilled to see the success of this year's North Charleston Business Expo. As a marketing agency, one of the ways we measure success is the amount of audience that is reached. To see the businesses and the public there walking around to the booths, talking, and networking is why we enjoy doing what we do. 
Gator Collective Events
We marketed a handful of events for Gator Collective, the NIL Organization for UF athletes we partner with. A few events we completed with Gator Collective were Fan Fest, TAILGATOR, and Rooftop TAILGATOR. We enjoy our partnership with Gator Collective and look forward to 2023. 
Charleston Scottish Games
The Charleston Scottish Games was a big event for us this year. We did the marketing for the 2021 games as well, that unfortunately had to be canceled due to weather. This year's games were a big deal. We are proud of how they turned out. The weekend was beautiful and we couldn't have asked for better weather or turnout. 
Project Launches 
We completed several projects this year for clients. Each milestone completion is a success for our team. A few projects we are extra proud of are the launch of our new website, the Gator Collective website, the Warrior Surf Foundation App, and the She Plays App. 
Stingray Branding Website Launch 
We launched our brand new website this year. This website means a great deal to our team. We like to use our website as an example of what we have to offer, and we believe we have accomplished this. 
Gator Collective Website Launch 
Our team is not only full of sports fans but avid Florida Gator fans as well. So partnering with Gator Collective, a NIL organization for Florida Gator Athletes is an opportunity we jumped at. Building the Gator Collective website was a huge project with a tight timeline. We were all hands on deck. 
Warrior Surf Foundation App 
As a veteran-owned business, we are proud to have built an app for the Warrior Surf foundation. Warrior Surf Foundation is a 501(c)(3) nonprofit founded by American Combat Veterans that works to provide free surf therapy, wellness coaching, yoga, and community to Veterans struggling with PTSD, anxiety, depression, transition issues, and other mental health issues. 
She Plays App 
Another app launch we are proud of this year is the She Plays app. This app is for fantasy sports for women's leagues. The app allows users to create fantasy leagues with real athletes and compete with friends, family, co-workers, or in public leagues. 
Awards Stingray Branding Received
This year has been an award-filled year for Stingray Branding. We have had several successes in 2022 and we take pride when our work shows and wins awards. 
Our Team was named among South Carolinas Top Design Agencies for 2022 by Clutch. 

Our team received the 2022 UpCity Local Excellence Award. 

Our team received the Expertise 2022 Best Advertising Agency in Charleston Award. 

Our Creative Director, Kym Swanger, received the Best New Website Award at the 2022 AMA Spark Awards. 

Our team received an UpCity Best of South Carolina award 

Our Marketing Manager, Kia Stokes, received an award from S.C. Biz News for Chief Marketing Officer of the year. 

Our team received an award from S.C. Biz News for Best Ad and Marketing firm. 

Our Creative Director, Kym Swanger, and our Content Director, Niel Shulman, received an award from S.C. Biz News for Best Web Design Firm. 

Our team who best Best Business of 2023 by Three Best Rated for the fifth year in a row. 
We are proud of our team this year and the hard work we have put in to finish 2022 strong. All of us look forward to what 2023 brings us and checking off new goals and objectives as we go along.