Digital Marketing
Stingray Branding is a unique marketing firm that focuses on delivering results for our clients through identifying the best marketing opportunities to connect to your ideal clientele with the most effective use of your marketing spending. We know marketing is all dollars and numbers, we care about how your brand is represented, protecting your reputation, growing your brand awareness, and improving your customer experience.
When our team considers the most effective marketing strategies for your business, we do so with an understanding of your clientele's habits, by analyzing your costs and estimated return on investment, and protecting the best interests of your company and your customers.
No Monthly Contracts. 7-Day Changes. 24-Hour Response Time.
Digital Marketing That Delivers ROI
Our company serves over a hundred clients with ongoing digital marketing services. One of the important factors we learned by serving the Charleston market is that every city has a different dynamic, and thus needs different marketing strategies. Our process starts with identifying your ideal clientele and your budget. We then create the perfect match for your brand and clientele at the price you can afford that generates a profit for you.
The process consists of these four simple phases:
Meet With Our Team
You meet with our creative marketing professionals to tell us your story, your vision, and your goals. Collecting all of the necessary information at the beginning sets your project up for success. Our team members are subject matter experts in numerous areas and will help guide you through what we need and how we will help you with your specific goals.
Create Action Plan
After the initial onboarding meeting, our team will construct a definitive action plan for your overall goals, timeline, and budget. No matter whether you have $400 or $40,000, our team can craft a plan that will help you reach your business goals. We actively communicate this plan to you, keeping you informed of our timeline so you're in the loop every step of the way.
Grow Your Marketing
Our team then goes to work on your specific action plan, sending deliverables and maintaining active communication with your though the entire process. It's important for you to know that we're working with you so we keep the process active and transparent for you.
Review & Refine
We believe that improvement is a constant process. Once we've completed your project, we will meet with you again to review it and make improvements. This fine-tuning makes sure that we hit the mark you want for your goals while also making timely progress.
Looking for all the digital marketing necessities? We have packages that cover all the basics to grow.
Social Media & Content Marketing
Local Social Media Marketing is important for your business. Social Media allows you to stay connected to your customers and followers allowing you to promote services, company developments, and your business gatherings. Social Media offers an online referral community where your customers can refer their friends and contacts to your business. Leverage your customer relations to grow your following, gain new customers, and maintain your brand reputation.
Our Social Media Marketing & Content Marketing packages are designed to help you remain focused on your services and customers while our marketing team manages your social media pages and grows your results and following. Leveraging our time and expertise allows you to focus on your business services and customers while we take care of your social media posts, reply to your messages, address your reviews, and run your ads. All of our local and national social media services have third-party reporting monthly so you can track our performance for your marketing every month.
Search Engine Optimization
You've invested hundreds or thousands into a new website that showcases your services and products, but how do you turn your website into a sales and leads machine? Search engine optimization, or SEO, is the key to turning your website into opportunity and revenue. Search engine optimization and marketing are what determines where your website ranks on Google, Bing, and other search engines.
The majority of purchases and decisions come from the first 5 results from a search.  Whether your business is in a high tourism market or an industrial city, SEO can make or break a business. Your website ranking on search engines can generate hundreds of customers and sales when your website is properly optimized for your target keywords. Local search engine optimization and search engine marketing, or PPC/Google Ads. Allow our team to turn your website into a lead-generation resource.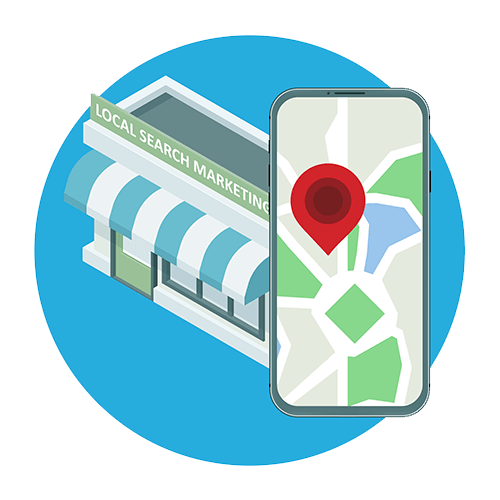 Marketing Automation & CRM System
Marketing Automation and AI services are the most sought-after marketing tools in the last few years. Marketing Automation can save your sales team dozens of hours a month per person and make the life of any business owner, sales professional, or sales manager easier. Marketing Automation can simplify your sales presence and ensure your customers are quickly attended to when they inquire or purchase from you. You can save time by eliminating the monotonous steps of data entry, emailing, and scheduling sales meetings. Drive your sales higher every month with incredible data insights, saving time, and enhancing your sales process. 
The Stingray Branding Marketing Automation system doubles as a CRM, or customer relationship management system. Your customers, contacts, current leads, and past leads are all able to be stored in one system allowing you to see their engagement with your brand, contact history, and overall customer relationship. Our CRM & Marketing Automation system will revolutionize the manner in which you run your business forever. 
The Stingray Branding Difference
Working with a marketing company isn't a one-size fits all endeavor. Every company has different needs, budgets, and visions. Often a business owner will work with multiple companies, each of them specializing in a given area. You may have a website company that builds your custom website, a graphic designer, a copywriter, a social media expert, a Google Ads expert, a strategist, a couple of assistants, a photographer, and possibly even an app developer to fill out every little part of your marketing.
Does it seem overwhelming?
You're not alone. Stingray Branding is a one-stop shop for all of your marketing and branding needs. Our team can help you create, reimagine, revitalize, or refresh your company's brand, helping you focus on growth instead of trying to keep track of too many emails.
Need a custom website? Our team can do it. New logo? We've got you covered. Are you looking for a full partner to act as the CMO for your growing brand? Our team can even do that too. We do it all. So if you want to partner with a one-stop shop for your marketing and branding needs, let's talk.
Not sure what you need for your marketing or to get your business started?