Here at Stingray Branding, we recognize the importance of protecting and improving our local community. We value our community members and understand their measurable influence, which is why we were eager for the opportunity to create a mobile app for the City of Aiken. 
The City of Aiken consists of government officials and citizens who work together to ensure that the quality of life in Aiken is exceptional and constantly improving. They provide valuable information to community members and visitors alike. Everyone wants to live in a flourishing community, and the City of Aiken does everything it can to provide this for the individuals in their community. 
When our team at Stingray Branding was presented with the idea, we quickly set to work on developing a mobile app for the City of Aiken that upholds their high standards and acts as a useful tool for their community.
City of Aiken Explorer Mobile App Interface
Making improvements in your community starts with making the lives of those in your community easier. The City of Aiken's mobile app interface does just that. With user-friendly navigation, the information on the app is accessible and easy to understand. It includes several tabs that allow users to quickly find what they are looking for with the simple click of a button. 
City of Aiken Explorer App Features
In addition to a user-friendly and navigable interface, the City of Aiken Explorer app features a wide range of navigation tabs that cover topics ranging from visitor info to news and notices and provides information about local events, maps, news, and more all in one place. Learn about the most influential features:
Local Events in the City of Aiken
The Local Events tab appears at the top of the navigation bar. This tab is great for local residents, but it is also extremely beneficial for visitors looking for things to do in Aiken.  You can search for events based on category, such as food & dining, entertainment, festivals, wellness & outdoor, and many more. 
City of Aiken Explorer Maps
The Maps tab is another incredible feature in the City of Aiken Explorer app. It provides location and direction information for parks & facilities, points of interest, and offices around the Aiken area. This feature includes the location information, but it also provides the included amenities, website links, and phone numbers for many of the locations listed, making it easy for users to find the answers and information they need.
Report An Issue With City of Aiken Explorer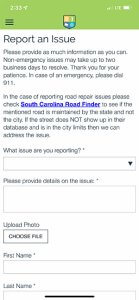 A major part of making improvements for your city is to encourage feedback from the members themselves. The Report An Issue feature in the app allows community individuals to report issues surrounding safety concerns, traffic complaints, street and traffic lights, and so much more. These issues are reported directly through the app and are resolved within two business days, allowing for timely and meaningful communication within the community. 
More About the City of Aiken
The City of Aiken was founded in 1835 and named after William Aiken, a famous railroad entrepreneur. In the early 20th century, the city was primarily known as a winter colony for the wealthy with a notable presence of equestrian sports, particularly polo.   
To learn more about the City of Aiken, visit their website or download their new mobile app on Apple or Google Play.
Start or grow your marketing reach with Stingray Branding
How can we help you get more people to benefit from your product or services? Whether it's web design, logo design, branding, graphic design, social media management, search engine optimization, marketing strategy, or mobile app design, Stingray Branding has you covered. Check out our marketing packages page and let us know what we can do to assist you!