The Stingray Branding Team is excited to announce the launch of a brand new website for our good friends at Wild Blue Ropes. This is an incredibly well-established brand in the Lowcountry that was seeking to update its website for some fresh appeal to new customers. We love projects like these, but they can be tough, and the balance required to maintain an incredible brand identity while bringing something new to the table is a challenge we love to take on.
Design
The client is a well-established business in the Charleston area with phenomenal branding. They had a great set of fonts and colors that communicated the value of their brand extremely well. The website they came to us with took advantage of that, and our team built upon it by incorporating lots of color transitions. This was part of our overall goal for Wild Blue Ropes, to create a visual web experience as fun as the course itself.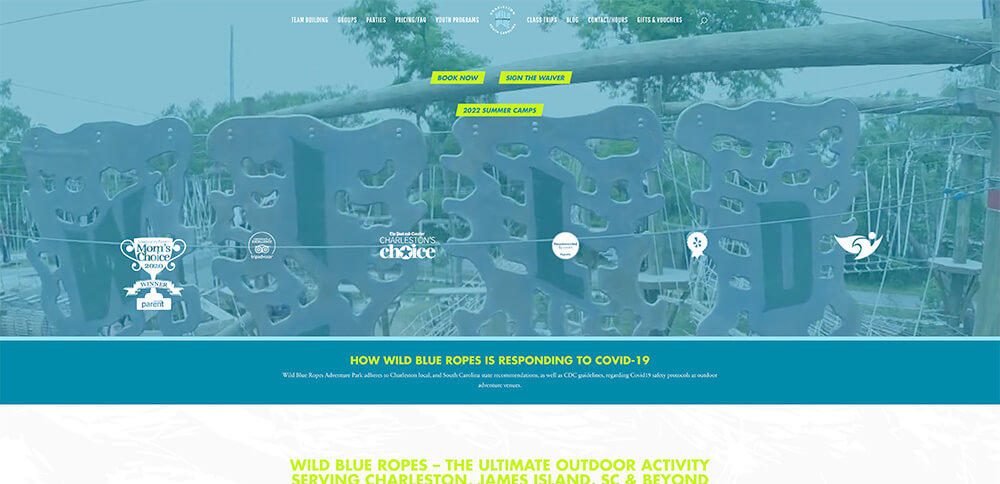 A major part of this was in creating a site where the customer could get the information they need quickly and easily. Calls to action were incorporated in every section, guiding visitors to other pages of the site, with a heavy focus on the booking page. Bright colors and transitions made the buttons eye-catching and fun to scroll over. The two most commonly asked-for pieces of information, the waiver and the hours of the attraction, were put at the top as a part of the navigation bar, making them visible on every single page.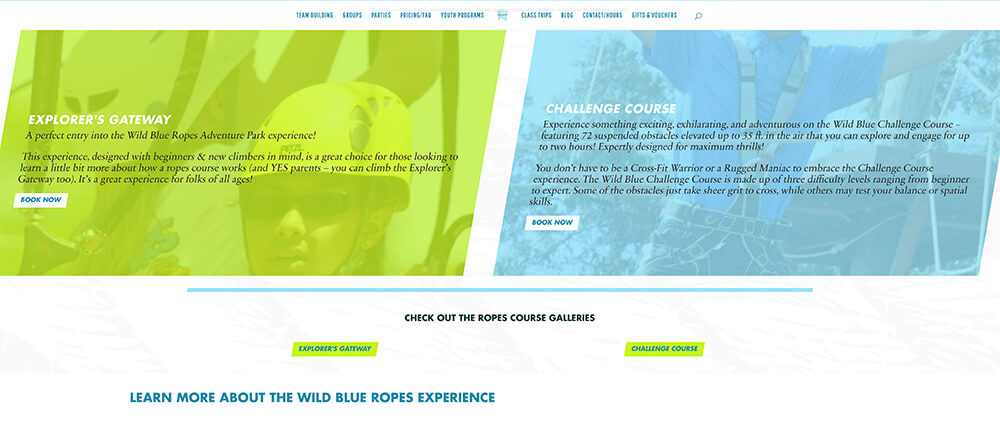 Bright colors and movement are incorporated throughout the site. The main banner is a moving video, showing people actively using the ropes course. Fly-ins, bright colors, accordion fold-outs, and fun design concepts are applied to the layout which also helps convey movement and keep a clean, simple design. Additionally, forms were simplified to keep people's experience streamlined and quick. This allows the client to answer questions and communicate with customers more effectively.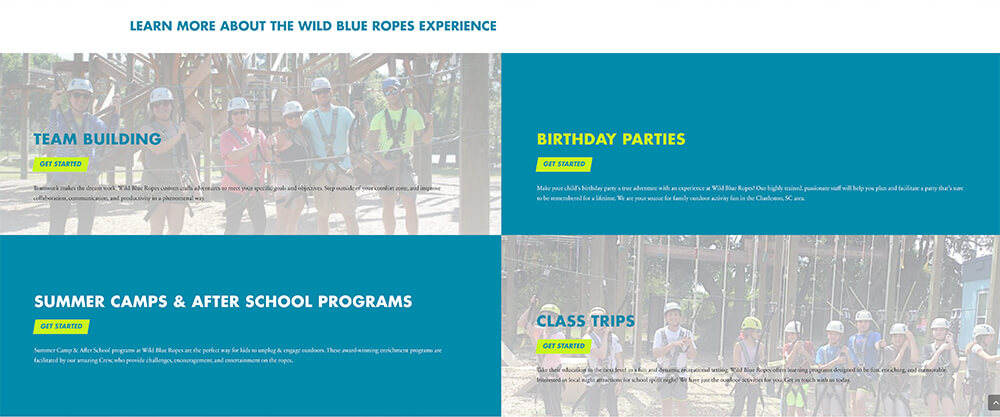 Your website isn't only a visual representation of your brand, it's also the first experience your client will have with you. Our team took a lot of time in making sure we maintained a well-established brand while improving the site to make the customer experience easy and as fun as those amazing ropes courses. How do you think we did?
Cool things to do at Wild Blue Ropes:
Your Stingray Branding Team
Our team loves working with business owners. As passionate creative and marketing professionals we take our skills and work to tell your story. Building a brand doesn't need to be a complicated, stressful process. But it often does require the help of a talented team. If you need some help with your digital marketing, whether setting it up or giving it a little boost, contact us today! We can't wait to help you.