New Marketing for ABC Paving & Sealcoating
ABC Paving and Sealcoating is a company that believes in proudly serving its fellow Lowcountry residents, just as our team at Stingray Branding does. No matter the job, we both take care to complete it with the highest level of quality. So, when we were approached with the task of creating a holistic brand and website for ABC Paving and Sealcoating, we were excited at the possibility of growing their business. 
What is ABC Paving and Sealcoating?
ABC Paving and Sealcoating was founded over 60 years ago by a man who saw the importance of high-quality paving. More than 3 generations later, ABC Paving remains a leading expert in asphalt paving, line striping, sealcoating, patching, and more. They pride themselves on top-quality services that can't be found anywhere else, which is why there is no surprise that their list of happy clients keeps on growing! If a homeowner or an office manager needs their driveway or parking lot improved, ABC Paving and their standard for excellence are there to help.
Our Impact
Since ABC Paving is so admired by its customers, we wanted to create a brand that continues to properly serve them. With ABC Paving's overall brand values and company mission, we set to work on creating a logo design, branding, and a website that fit their needs and expectations. Here is how it turned out!
Logo Design and Branding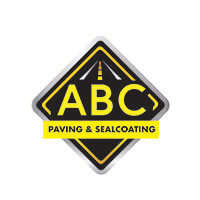 For the ABC Paving Logo, our client wanted something simple and straightforward that would initiate brand recognition in whatever format it is used. Our graphic designer considered this when creating the logo and came up with a design that is incredibly fitting for ABC Paving. The logo features a diamond shape that resembles a road sign to tie in the concept of paving and striping roads. It also features a black background with yellow text that creates an eye-catching contrast. Our designer chose to make the brand colors black and yellow to once again resemble the main colors that are associated with paving roads. The font chosen is also straightforward to facilitate the clarity and brand recognition desired. 
Web Design
Once we nailed down the logo design and branding aspect of our project for ABC Paving, our web design team set to work on creating a website that would mirror the brand standards and help ABC Paving's customers to find the information they need. The website once again features the yellow and black colors of the brand as well as the logo in the top left corner to further drive brand recognition. Here are some of the pages found on the website:
Home
The most important part of a website, the home page features the navigation bar across the top of the screen and gives the user options to click between ABC Paving's services, past projects, a contact form, or an about page to learn more about the company. The home page also features a brief overview of the company and what they offer, in addition to some photos of work they have done in the past. The bottom of the home page has a call to action for users to get a free estimate for a project as well.
About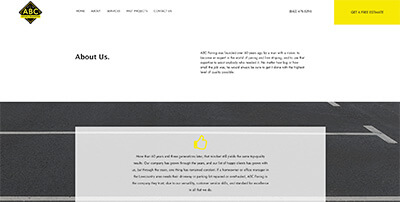 As mentioned above, the ABC Paving About page allows website users to gain a deeper understanding of ABC Paving as a company and learn more about its history. This page also gives users the option to view ABC Paving Services and provides a short description of what those services may look like. 
Services
The Services page is perhaps the most important page for website users who are looking to hire ABC Paving for a project. This page gives an extensive overview of all the services that ABC Paving can provide. From asphalt paving to seal coating to patching, the services page can give customers all of the information they need to hire ABC Paving for their upcoming projects. 
Past Projects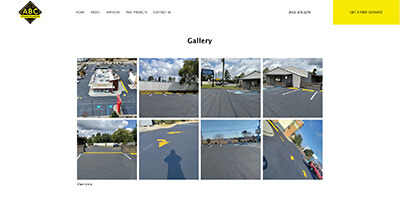 The Past Projects page is also great for potential customers who are looking to hire ABC Paving. This page allows them to see previous work done by ABC, and it also showcases the amazing improvements that their services provide. The bottom of this page also has a gallery for website users to click through and see a wide variety of project images.
Social Media
In addition to the logo, branding, and website, our team also set up social media accounts for ABC Paving. We created cover photos, profile pictures, and initial welcome posts for accounts on Instagram, Facebook, and LinkedIn. This initial social media setup is a great way to give ABC Paving a platform on social media to send out any information about their business and services. 
If you are interested in learning more about ABC Paving and Sealcoating, or you might be interested in their services, check out their website today! You can also follow them on Instagram, Facebook, or LinkedIn. 
Your Stingray Branding Team 
No matter the size of your business or your industry, our team can help take your marketing to the next level. By harnessing the skills, experience, and knowledge of some of the best experts in the business, we can craft your digital marketing strategy and experience to maximize results. If you need help with your marketing, or just have some questions about where you're at today, contact us! Our team would love to help you!