Refresh the SEO & Content on Your Website
To enhance your website's visibility in search engine results, optimizing it with relevant and updated content is crucial. Consistently update your page titles, descriptions, and website elements to comply with the ever-changing Google algorithm, increasing the likelihood of ranking high in search engine results. Staying aware of the algorithmic changes boosts your website's chances of maintaining or elevating its ranking in search engine results. It is essential to regularly prioritize the creation of tailored content, incorporate relevant keywords, generate authentic backlinks, and fix technical errors. By continually analyzing and adjusting your SEO strategy, your website experiences consistent and sustainable growth in search engine rankings. Keep track of the latest trends in the SEO field, work on a solid content marketing strategy, and ensure all elements on the website are technically optimized for better user experience and improved search engine ranking.
Our SEO Refresh Package includes the following:
Rewritten content for every page
Updating Page Titles
Updating Page Descriptions
Updating Image Alt Text
Compressing all images
Verify Google Analytics & Search Console
Updating Plugins to current SEO technology
Other items as determined by your SEO Audit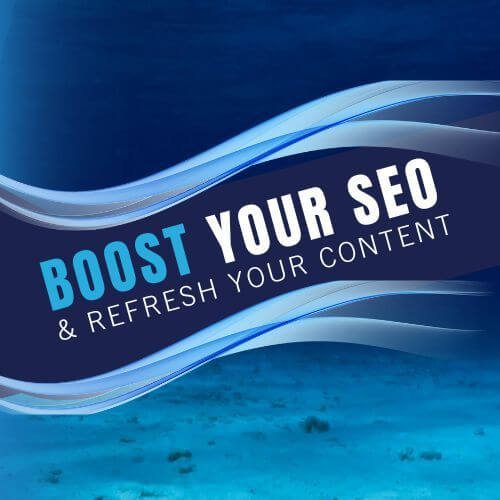 Sign Up Today for $450
(5-pages included) + $50 per additional page
Have questions? Schedule a time to talk to us!