We are excited to announce the new website and branding for Pathways To Inclusion! Pathways To Inclusion is founded by Johnetta Greene who has over 15 years of experience with diversity, equity, and inclusion. They work across industries and sectors no matter where they are in their DEI journey. Pathways To Inclusion is passionate and committed to building more inclusive organizations where her clients can thrive and achieve meaningful, lasting change.
Who Is Pathways To Inclusion?
Pathways To Inclusion believes diversity training must begin at a young age and continue throughout their lives. They work with both schools and businesses and have plenty of service options no matter how small or big an organization is.   
They partner with those they work with to evaluate the organization's level of DEI maturity. Pathways To Inclusion can then customize its strategies and programs for what the organization needs. The goal is to transform, educate, engage, and empower. They do this through organization alignment, focused initiatives, and ongoing support. 
Stingray Branding's Impact 
Our team at Stingray Branding was granted the opportunity to help Pathways To Inclusion with all start-up marketing necessities. This project was all hands on deck since we had the pleasure of creating their logo, overall branding, social media setup, and website design. Here is how it turned out:
Logo Design and Branding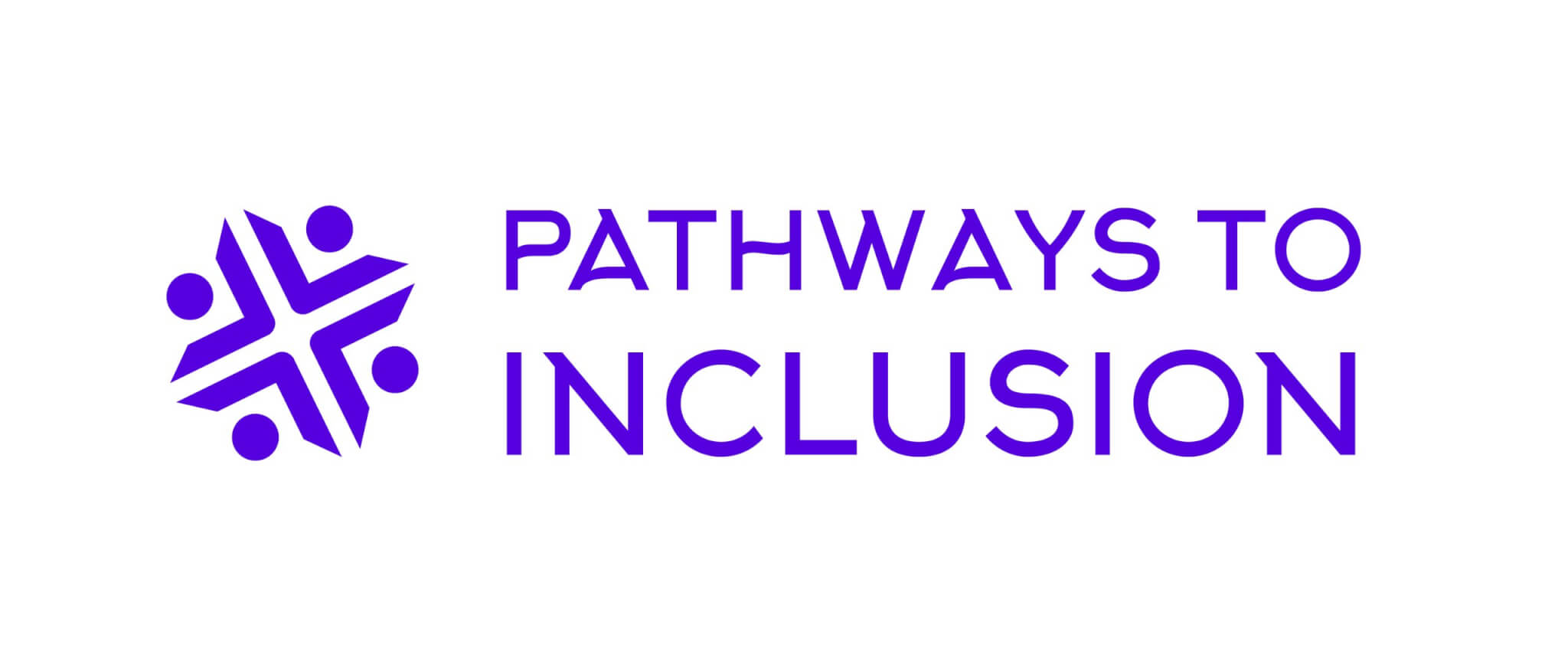 When designing a new logo our Graphic Designer, Sophia seeks to get an understanding of what the client's preferences are and what Johnetta imagined. In creating a logo for Pathways To Inclusion she asked a series of questions that gave her a good idea of what imagery Johnetta was looking for, including her desired colors and fonts, as well as the overall purpose of the logo.  
Our process when creating a new logo is to send the client multiple concept options in the colors they requested. The logo design process typically takes two rounds. We receive feedback on the first round and make those changes to get approval after the second round. For the rest of the branding, Sophia created business cards, brand standards, letterhead, and social media banners based on the new logo that Johnetta selected to create a uniform brand in every location a prospective client may see it. 
Pathways To Inclusion Social Media 
When we set up social media for a client we identify what platforms the client believes and which are necessary for their business through our evaluation of their intended usage and the target audience they can reach. For Pathways To Inclusion, we determined that Google My Business, Instagram, Facebook, and LinkedIn were the best platforms to reach her target audience. We then set up those platforms for her, reducing the steps to get her digital presence launched.
Website Design
When we set up a new website, we start with building the home page. Once we get approval for the home page our Content Director, Neil Shulman writes completely original content from the client that is derived from a thorough on-boarding process allowing our team to properly understand what Johnetta did for her clients, why she is starting the business, and what sets her apart from her competitors. Now with an approved website layout design, all original content, and a vision in mind, Sophia embarked on creating the perfect online representation for Johnetta and her new company. Through the design process, Sophia was inspired by Pathways To Inclusion's mission, to support and uplift diverse workplace members, which influenced the design to be colorful and uplifting and represent diversity in the imagery throughout the website.
The Website Site Map 
A What We Do page is important in a website to give potential customers an idea of what Pathways To Inclusion does for their clients. The What We Do page briefly explains their services. The layout of the page is simple and elegant. It is easy for users to navigate and get the information they need on Pathways To Inclusion. The How We Do It page explains Pathways To Inclusion's process to partner with their clients. It lays out their process in a simple and elegant form. Their resources page is a working process. They aim to add recommended reading, toolkits, self-assessments and thought leadership papers. A contact page is also important when designing a website. This page gives potential customers various ways to contact Pathways To Inclusion to schedule an appointment.
Your Stingray Branding Team 
No matter the size of your business or your industry, our team can help take your marketing to the next level. By harnessing the skills, experience, and knowledge of some of the best experts in the business, we can craft your digital marketing strategy and experience to maximize results. If you need help with your marketing, or just have some questions about where you're at today, contact us! Our marketing and design team would love to help you!