Stingray Branding is happy to announce a new mental health awareness app for the community of Watertown, SD. We were delighted to be allowed to build this app for Glacial Lakes SAFE. 
The Glacial Lakes SAFE App
The app allows users to learn ways to help them support their mental health wellness. It links to community resources meant to help users know where to go locally for help and where to send others in the Watertown area. The app is a part of the Glacial Lakes Suicide Awareness for Everyone (SAFE) Coalition. Their coalition is dedicated to empowering the community to prioritize mental health and de-stigmatize suicide, crisis, and mental health conditions. 
Interface and Navigation 
Interface and navigation is an essential component of any mobile app. The interface and navigation of the Glacial Lakes SAFE App is meant to give users easy access to their mental health resources. 
The home page shows clickable squares easy to read options such as "I Need Help Right Now," "Mental Wellness for Everyone," "I Am Not Sure If I Need Help," "Find a Provider," "Support Groups," "Support Friend/Family Member," "Suicide Education," and "Partner with GL Safe." If users scroll down on the home page they will see an option to create a "Safety Plan" and "Get "Involved." The "Safety Plan" brings them to mysafetyplan.org and gives users FAQs about making a safety plan, how it works, how to stick with their safety plan, and more. The "Get Involved" takes users to the Human Service Agency Prevention Services page. Below that section, the app provides upcoming dates and times for support groups and resources.
The app also provides a sidebar with all the same options mentioned above plus a calendar and an app feedback form. A sidebar feature in an app allows users to easily navigate through the app from page to page without having to depend on going back to the home page. This allows ease of use for users to find the information they are looking for. 
The Features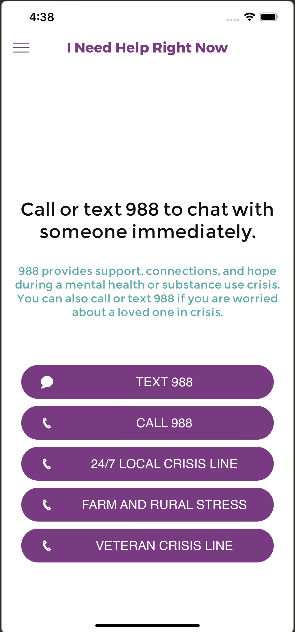 "I Need Help Right Now" gives users resources to chat with someone immediately. It provides a way to text and call a three-digit number, call the 24/7 Local Crisis Line, Farm and Rural Stress Line, and Veteran Crisis Line. by a click of a button. Users can simply click on the button they need to and it will direct their phone to call right away. This feature allows users to easily get in contact with someone when they need help. 
"Mental Wellness for Everyone" gives users resources for Calming/Wellness Apps. Apps featured on this list are "Calm," "Breath to Relax," "Moodfit," and more. The box also gives users the "Family Resources Directory." This directory provides users with a list of resources under a multitude of categories such as Watertown Healthy Youth, Counseling Services, Domestic Violence, Addictions, and much more. 
"I Am Not Sure If I need Help" takes users to several useful resources to give users information on Important Signs of Distress, Mental Health Warning Signs, Make a Safety Plan, and Phone Apps to look into.
"Find a Provider" takes users to a PDF that provides several contacts for mental health providers and their specialties. The PDF also provides additional resources for a general practitioner, domestic violence hotline, emergency shelters, and more. 
"Support Friend/Family Member" provides friends and family members of someone who is struggling with mental health resources. The page it navigates to give options of trusted resources and more resources on how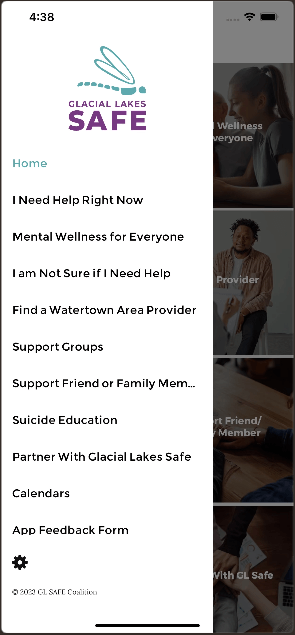 to create a safe environment for their loved one. 
"Suicide Education" gives users info on suicide and its many forms. As well as resources for users to learn the "Warning Signs and Risk Factors, "Local Training" in the area, "Reporting a Suicide," and access to "NAMI Training and Presentations." 
"Partner With GL Safe" gives users the resources to "Pledge to be Stigma Free," Implement Worksite Wellness," and "Presentations in the Workplace." "Pledge to be Stigma Free" takes users to the NAMI website to fill out a form. The description goes over their effort to end the stigma of mental illness and create hope for those who are affected. The "Implement Worksite Wellness" section takes users to HealthySD.gov with information on health, fitness, and wellness. Lastly, the section on "Presentation in the Workplace: takes users to a page on Mental Health in the Workplace and how to request a presentation. 
Glacial Lakes SAFE App
The app is a great resource for anyone in the Watertown, SD area who struggles with mental health or anyone who knows someone who struggles with mental health. It provides multiple resources for anyone who is going through any sort of distress big or small. It allows users to learn of the many options available to talk to someone about what they are going through. The app makes it simple for users to navigate through the different pages and find the resources and information they need to better their mental health. 
Check out the app on the Apple App Store or Google Play Store.