The Marketing and Design Teams at Stingray Branding are excited to announce the launch of a new website for our dear friends at Sabal Palm Cleaning Services. This local company provides incredible, professional cleaning services to professional buildings and amenity spaces in luxury apartment communities. We met with the owners of this local cleaning service provider and were wowed by their incredible story of bootstrapping a company and living a dream. Stories like these are at the core of what we do, so we were eager to dive into this project and create something amazing!
Sabal Palm Cleaning Services is an incredible business and has an incredible brand identity. The sabal palm is well known to us here in the Palmetto State, as it's the state tree. It also has a historical connection to cleaning, as palm leaves were common broom materials in Colonial times. Combine this incredible local identity with the story of the founders, and the incredible service they provide, then you have one incredible brand.
We designed a clean, clear logo for them, featuring their namesake tree. This logo is featured prominently in the navigation menu of the site. For colors, purple was used to create the idea of luxury given the types of clients and spaces they work with. All of these design elements were incorporated with a clean, user-friendly layout to make a great website for our friends.
The Home Page is kept very clean and easy to navigate. A strong call to action for a free estimate is highlighted above the fold, and information on the cities they provide service to, as well as their distinct value propositions, are featured throughout the page.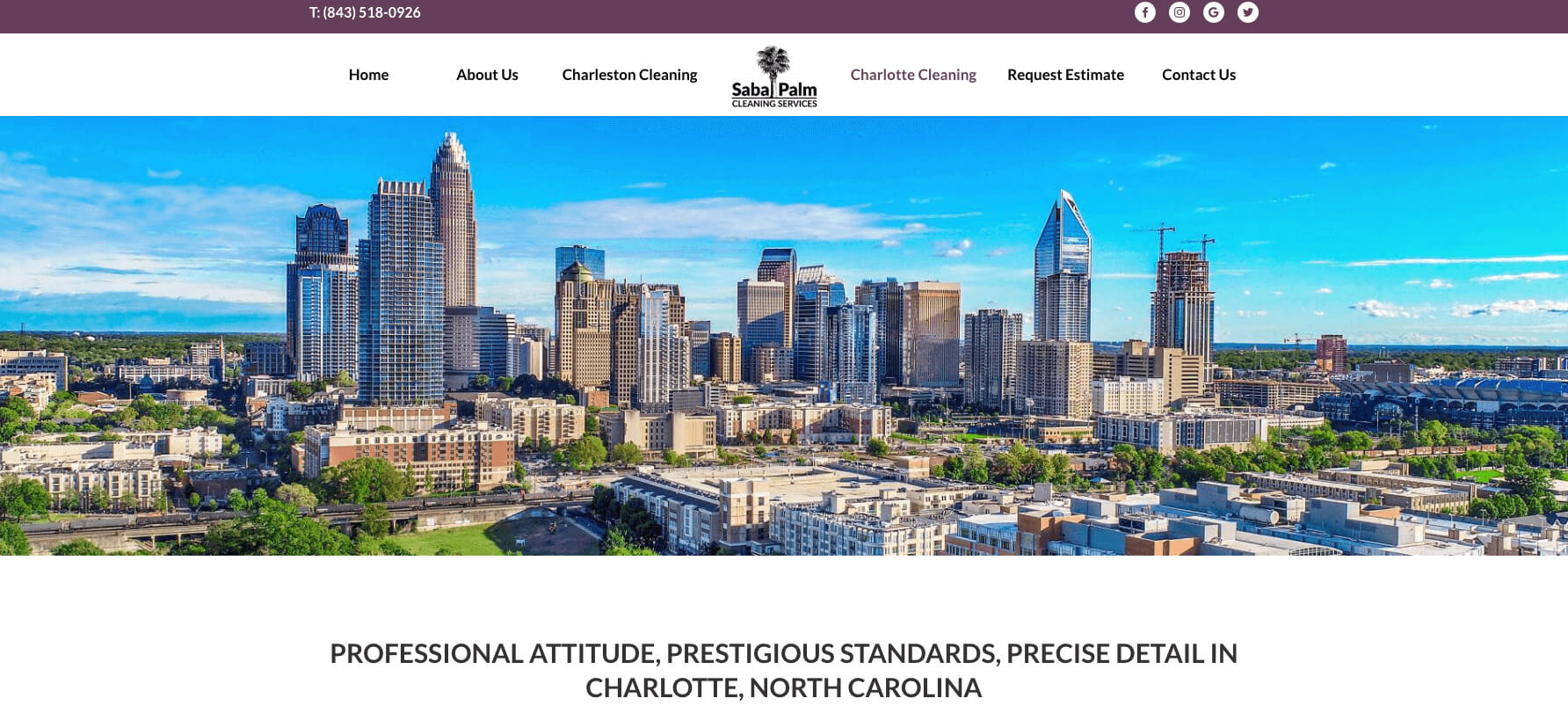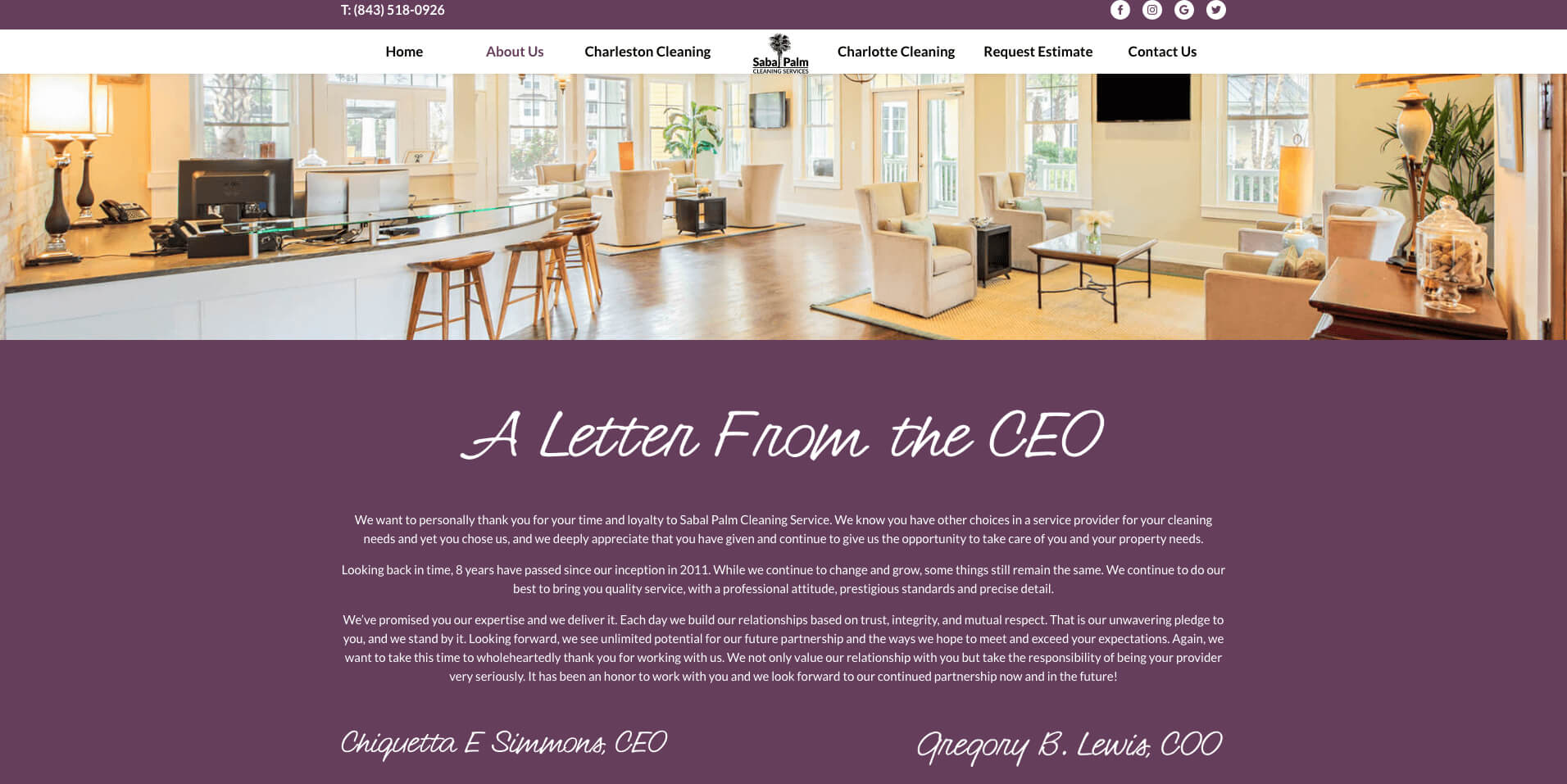 Sabal Palm Cleaning Services is an incredible cleaning company. It's the ownership and their attention to every detail that truly make them stand out. We wanted to highlight this on their About Page. A letter from the owners is featured, as well as some copy highlighting their story and their commitment to excellence in serving their clients.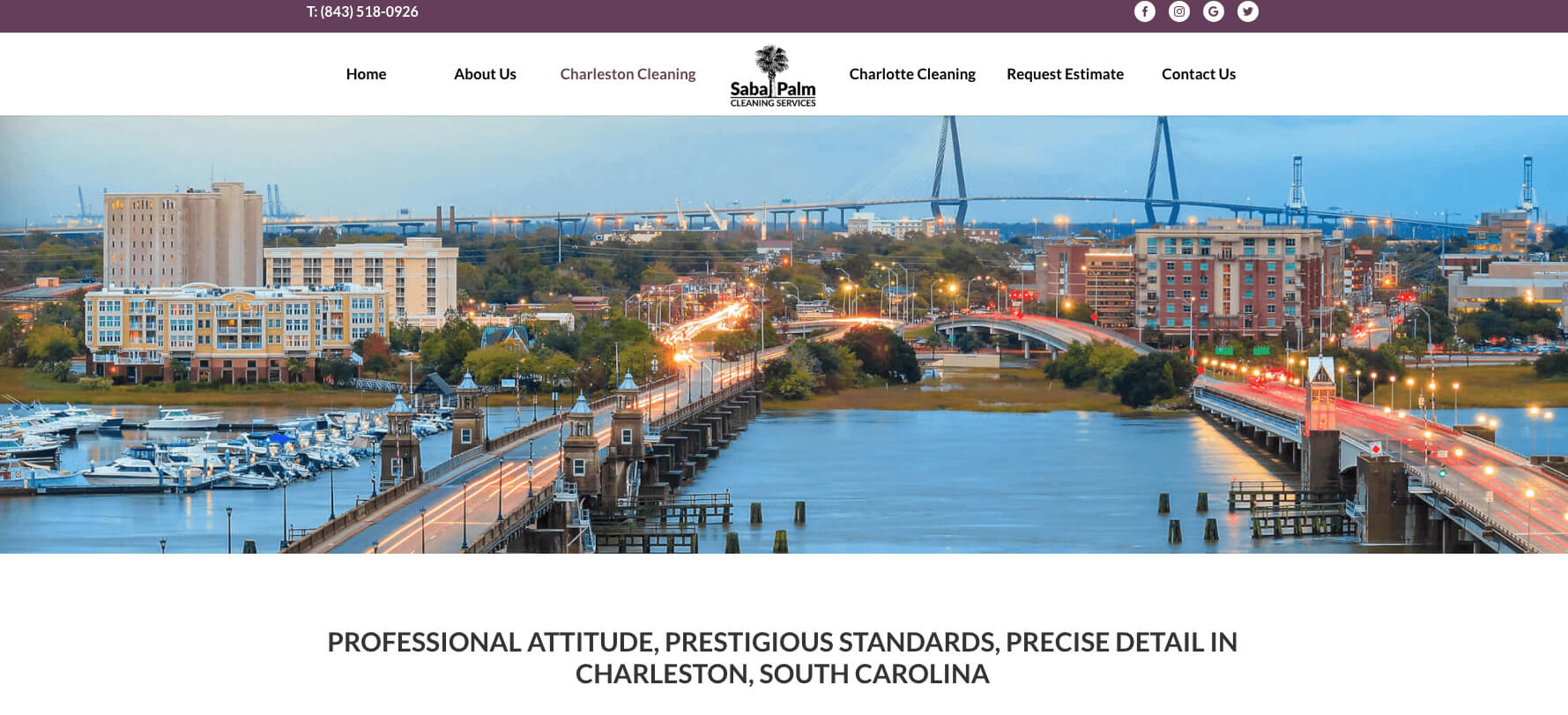 Sabal Palm Services offers services in both Charleston and Charlotte. Highlighting their services in both cities was important to them, so our team designed a separate page for each market. The Charleston page features a gorgeous picture of the skyline, highlighting the gorgeous local scenery, as well as call out text highlighting their value proposition.
We wanted to capture the same clean look for their services in Charlotte that we did for Charleston. Many of the design and copy elements are similar, highlighting that you will receive the same quality service in either location. The Charlotte skyline is prominently featured to give it a fresh look with local appeal.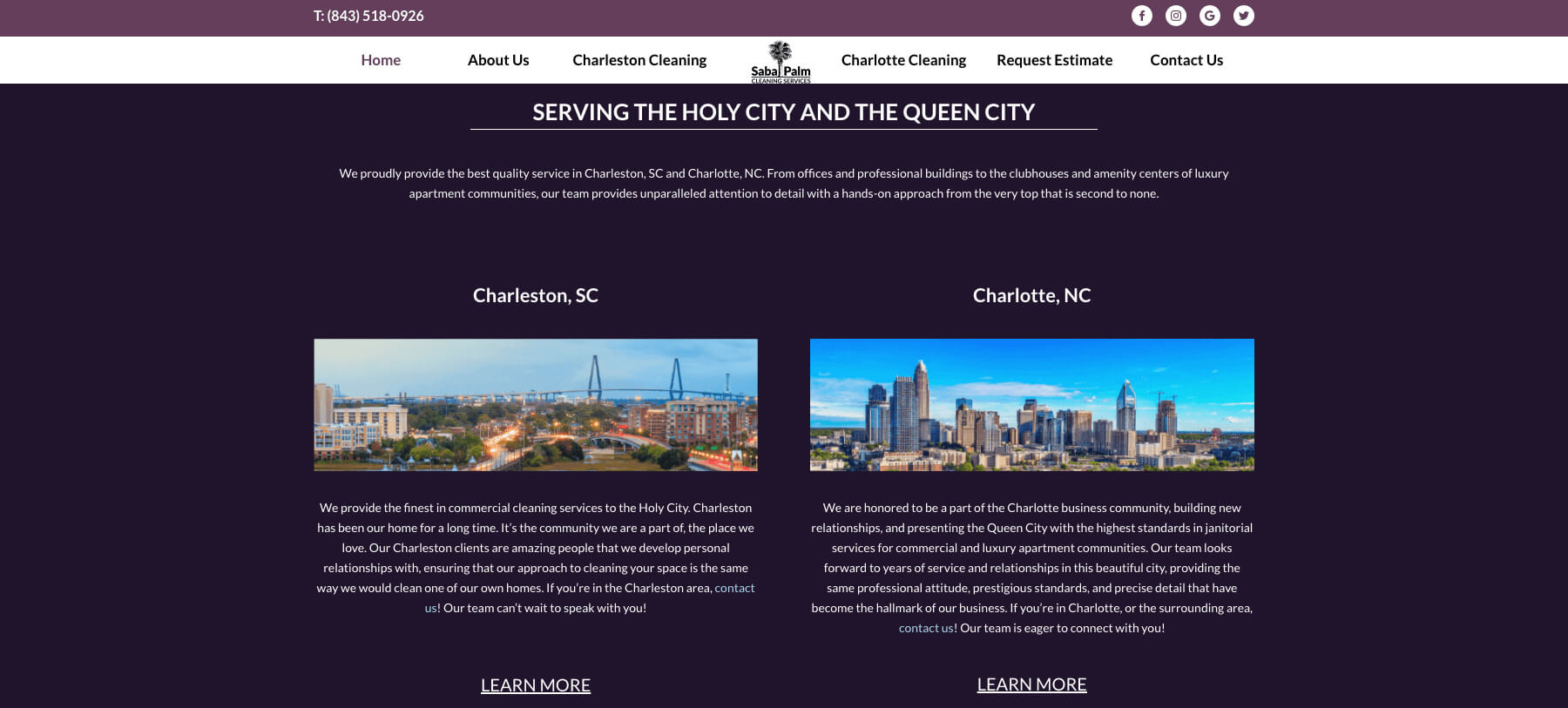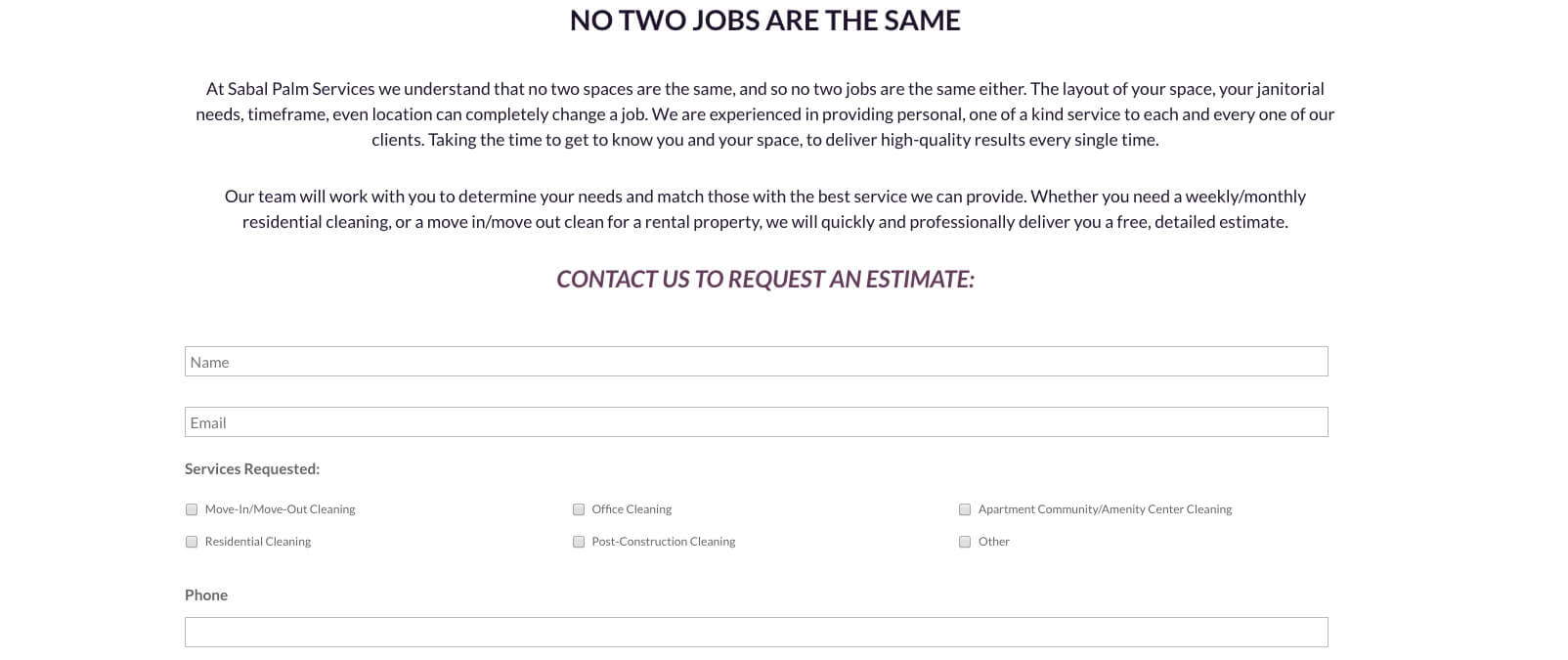 One thing we did with their contact page was making it easy for happy customers to go leave a review for them. Reviews have huge impacts on businesses and their SEO strategies, but they can often be more work than a client can remember to do. Why? Because it can be complicated and it's not pressing. We made it simple with easy to navigate buttons to help encourage great reviews for this great company.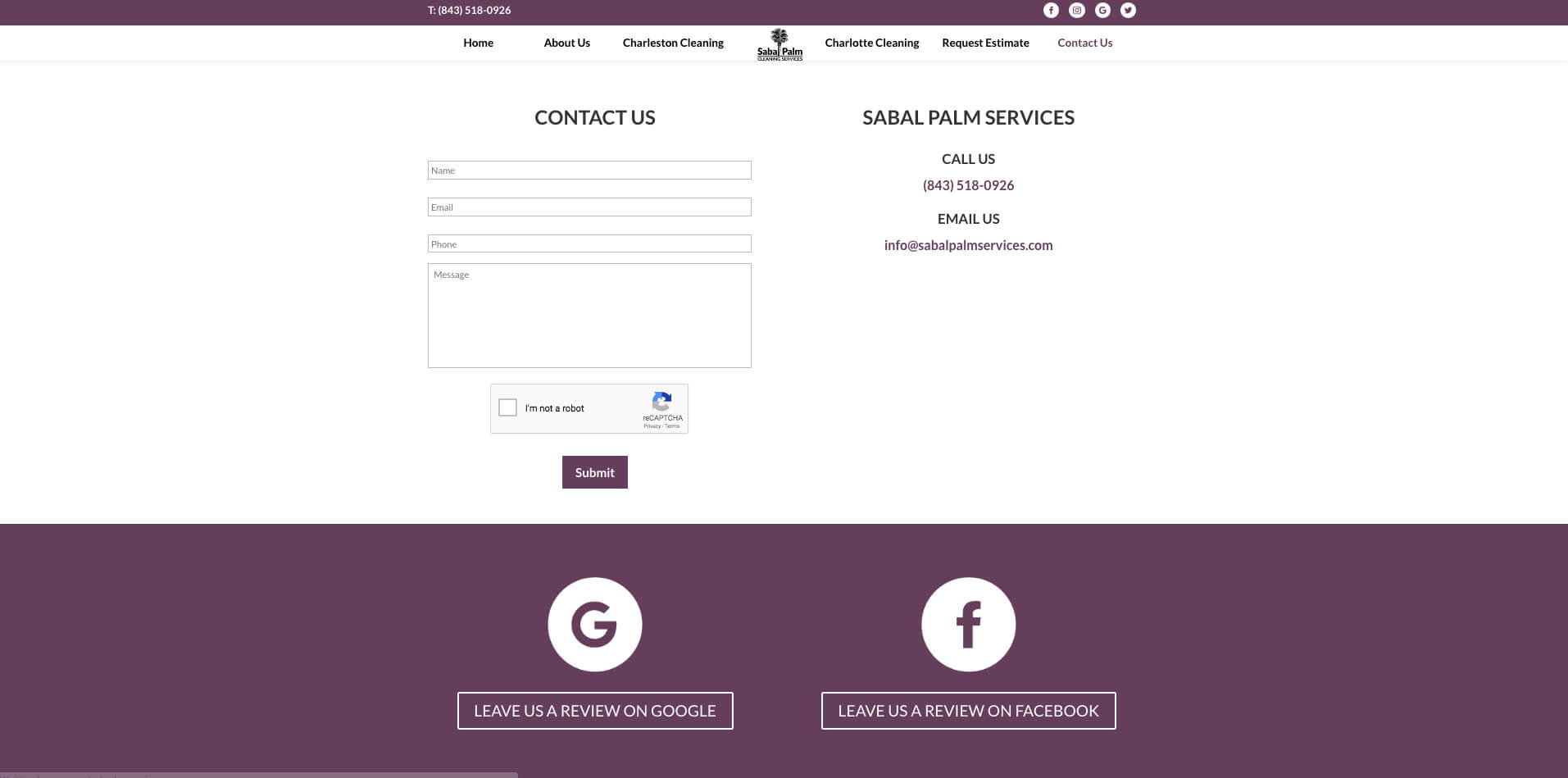 What do you think? Is it fresh and clean? We think so.
The Stingray Branding Team
No matter the size of your business or your industry, our team can help take your marketing to the next level. By harnessing the skills, experience, and knowledge of some of the best experts in the business, we can craft your digital marketing strategy and experience to maximize results. If you need help with your marketing, or just have some questions about where you're at today, contact us! Our team would love to help you!