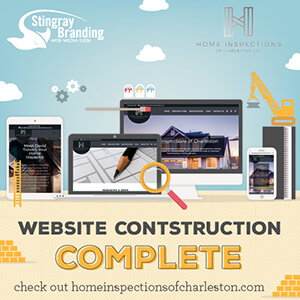 David Tidwell has been a home inspector for decades, but he had been a resident of Charleston for only a few weeks. It was an exciting time (as any entrepreneur can agree), making the dream of owning and running your own business a reality. But it's something you can't do on your own. So, happily for us, David came to Stingray Branding for help. He came to us for everything –our Small Business Package – which was a very, very smart move.
Okay, yes, we liked having his business, who wouldn't? But here's why coming to one marketing firm for all of your start up needs is a wise decision: because everything we did – from the car magnets to the logo design to the content writing – was created with the big picture in mind. Every element was part of the whole – the new Home Inspections of Charleston brand – so that it all fits and flows together. And the result? Well, as the saying goes, the whole is even better than the sum of its individual parts.
Here's what we did:
5 page website with custom design
4 website pages of original content
SEO focused on relevant keywords
12 months of website hosting/25 email accounts and help with analytics
Business Card design and layout – and 500 cards
Social Media– setting up/maintaining a company Facebook page
Yelp and Google business listing
Car magnets
The Stingray Team enjoyed working with David – we all learned a lot about home inspections in the process. Some highlights of the project: adding the ability for prospective customers to book an appointment online, a scrolling banner featuring all of David's certifications (there's a lot!), and home page content that focuses on the branding differentiators of Home Inspections of Charleston. Take a look for yourself: www.homeinspectionsofcharleston.com.